Cabins in Branson, MO: Best Places to Relax and Ease Stress
on October 16, 2020
No Comments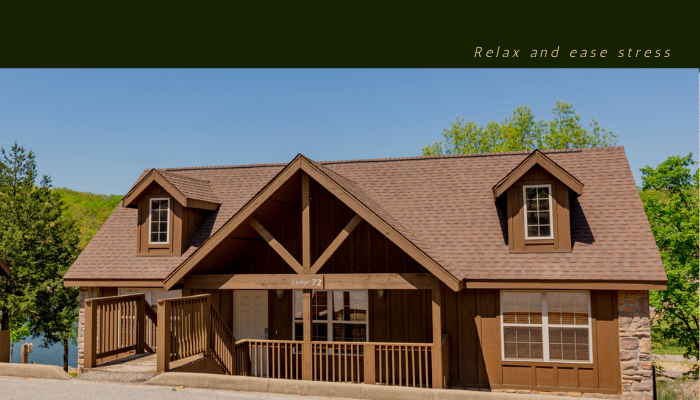 You've worked your fingers to the bone and you definitely earned time to relax. Surely, you'd love to take a vacation far from the stressful hustle and bustle of the city. But you wouldn't want just peace and quiet, you'll want an exceptional vacation experience with lots of delightful places to see, and a safe and welcoming place to come home to. The cabins in Branson, MO have everything you need to take your holiday to another level. Whether you go on your own, bring someone special, or take the entire family with you, there's a place exactly right for you. 
How fantastic it would be to enjoy the great outdoors, and then come home to cozy Branson lodging. Here's a few of the many reasons why Branson, MO is a haven of both entertainment and relaxation.
Conveniently located cabins in Branson, MO
When looking for a place to stay, you'll want lodgings that not only fit your budget but are also located near exciting attractions and serene spectacles. Rightly so, Branson resorts such as Thousand Hills and Emerald Point are conveniently situated next to parks and museums, dining, and shopping locales. Others such as the Vickery and Fall Creek Resorts bring you close to the most remarkable natural sceneries across Table Rock Lake and Lake Taneycomo. Several luxury condos and private homes are accessible to the city's live entertainment district as well.
Tourists may worry about going to and from one place to another. In most semi-remote travel destination areas, public transportation is rare. That's why bona fide Branson lodging and resort agencies offer bus shuttle services for tourists as well.
Refreshing activities near Branson resorts and lodgings
If you're inclined to a more laid back–maybe even romantic–type of stress-relieving activities, Branson, MO is the place to be.
To start off, you and your special someone can take a Lake Cruise in the morning, while the lake is calm and the sun is just about to rise. From the cruise deck, marvel at the picturesque and ever magnificent Lake Taneycomo. Then, continue your fun and romantic stroll up in the mountains for some fresh air and indulge in the views of the beautifully rustic woods. To cap off the night, pamper yourselves and let the City Spatique staff spoil you with a revitalizing full body massage.
Should you have a day more to spare, a visit to the lavish wineries in the area is surely one you should not miss, whether you consider yourself a connoisseur or just another curious wine enthusiast. These famed wineries are just a short walk away to Branson lodging, so there's no need to worry about getting a little tipsy while having a little bit of fun.
Reliable security for your Branson lodging
No matter how impeccable your sightseeing and lake cruise experiences have been, your safety should remain a top priority for your vacation. And so, apart from securing their properties' condition, most Branson resorts and lodgings also provide damage protection and travel insurance options to their guests.
If you're looking for the best lakefront Branson cabin rentals, luxury condos, and private homes, call Branson Regal at 1.417.203.0402 now and book directly to get the best ones before they go! Stay calm and relaxed: we have your vacation essentials covered!