Book a Branson Cabin Rental for a Magical Fall Season
on November 2, 2021
No Comments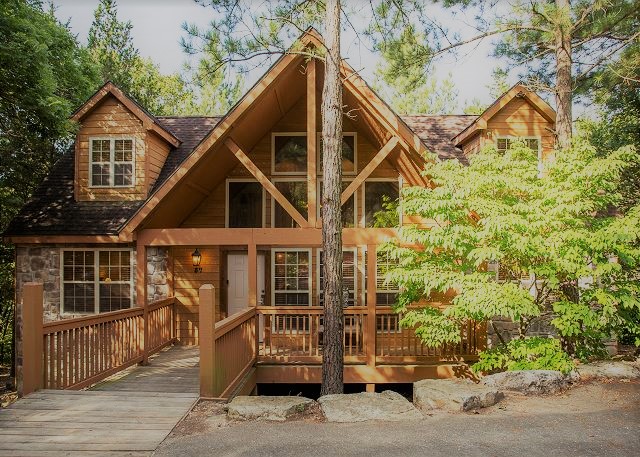 Fall in Branson is magical. Leaves change colors as far as the eye can see, and there are dozens of fall family-friendly activities to participate in. The air is just cold enough that you don't sweat when you're walking but not too cold that you're bundled up to your eyes in layers. All around you, nature is a glorious state of transition. It is the perfect time to book a Branson cabin rental for a getaway.
There is so much to do! From breathtaking nature walks to harvest festivals that kids might never have experienced before. The best part is Branson lodging has pet-friendly options, so you can truly bring all the family members along, including the fluffy four-legged ones. Written below are some of the activities you can get up to in the fall.
Hike or stroll right by your Branson cabin rental
No matter where your Branson lodging is, there is bound to be a hiking trail right by it. Trails go from easy up to advanced. If you can't find the difficulty level, it might be best to look it up online before you set off. Dogwood Canyon Nature Park has 6.5-miles of paved paths and 9-miles of nature walks. You can choose which one suits you better. Nature walks might need hiking shoes, and if you haven't brought those along with you, it will be best to stick to the paved paths. Every path in Dogwood Canyon Nature Park takes you past bubbling streams, beautiful waterfalls, and even wildlife. If you want to see larger animals, like the Dogwood Canyon bison, elk, and longhorn, book the Wildlife Tram Tour. Out in the wild where they belong, these majestic animals are incredible to behold.
Get behind the wheel for a fall-time driving tour
You don't need to walk for hours on end to see the beauty of Branson. There are other far more comfortable ways to see everything the place has to offer, like driving. You can see the entire landscape and its changing colors by following one of the three routes planned by the VIsitors Bureau. You'll drive by Table Rock Lake, Bull Shoals Lake, Rockaway Beach, and Downtown Branson. These areas have the best leaf-changing. Cover all three routes over a few days, or pick the one that fits in best with the location of your Branson cabin rental. Go online to see how much distance each drive will cover.
Go from your Branson Lodging to the Harvest Festival
If you are after the Harvest Festival at Silver Dollar City, you're in for a lot of fun. Silver Dollar City has fun rides decorated with a fall theme from September to the end of October. Meet dozens of local artisans as they show you what they can create with a piece of wood and how they cook outdoors. Sample the best pumpkin pie you'll ever have and marvel at the sight of hundreds of carved and lit pumpkins welcoming you to the festival. Complete with a pumpkin-flavored food fair that will hit that fall spot, you and your family are in for a one-of-a-kind treat.
Branson's Veterans Week
This is one of the essential fall-time celebrations in Branson. People gather from all over the country to show their gratitude and appreciation for the troops still serving. There are Veterans parades to honor the men and women who have served and themed shows. This is the perfect cause to bring the family together.
Branson in the fall is worth the visit. No one will be bored with activities for all ages and adrenaline types. Planning a vacation can be tiring, so let us help you. Start that fall-loving holiday spirit by letting us handle the details for you. Slide into tranquility by calling Branson Regal at 1.417.203.0402 now and book direct for the best lakefront Branson cabin rentals, luxury condos, and private homes!